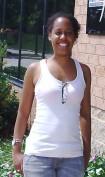 Christina Jeter, The Life and Times of a Girl Bound For Greatness
BBN: How old are you and where are you from?
Christina: I am 28 years old and originally from Long Beach, California.
BBN: When did you start blogging?
Christina: I started blogging December 2009 because I was in New York City the
year before, which was my first time living on my own and realized how
the city made me mature so much and I was proud of what I did and went
through all on my own.
BBN: What inspires you the most in your writing?
Christina: The fact that my writing has developed so much inspires me each and
everyday, I love to look back on how bad my grammar was and how it has
progressed.
BBN: If you could go any place in the world and blog about it, where would
you go and why?
Christina: If I could go any place in the world and blog, it would be Paris
because I always wanted to learn french and it is combined of my two
favorite cities NYC and New Orleans.
BBN: What do you hope to accomplish from your blog/website?
Christina: I hope to accomplish from my blog/website that it inspires others to
follow their dreams.
BBN: What are some of your goals for the future?
My goals for the future is to write a book, show, movie, and just get
my creative ideas out worldwide!
BBN: What advice do you have for new bloggers and aspiring writers?
Christina: My advice for new blogger and aspiring writers is don't believe the
negativity, keep going at each "NO" you receive and don't "STOP" when
you get a "Yes"!
Visit Christina Jeter's Blog at www.CJeter.com

Share and Enjoy