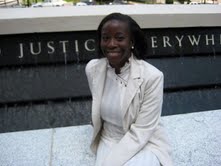 In an interracial relationship or marriage,
"Yes, we're together"
probably ranks among the top three most oft-quoted phrases.  Even in some of the most progressive, liberal, intellectually advanced, and economically developed areas of United States, folks have a hard time wrapping their minds and hearts around the notion of two people, who don't look like each other, committing to live a life of love together. Interracial marriage isn't any harder or more challenging than same-race marriage, but it can be more entertaining. 
Atinuke "Tinu" O. Diver is the author of
yesweretogether.com
, a collection of creative non-fiction, essays, memoir and interview pieces that challenge the assumptions and assume the challenges of interracial marriage with humor and grace, and where all racial/ethnic combinations are fair game.  The oldest daughter of Nigerian immigrants, Tinu was born in Mattapan, Massachusetts and raised in Prince George's County, Maryland.  She earned an English degree, Certificate in Nonprofit Leadership, and Law degree from the University of North Carolina at Chapel Hill.  Since 2007, she has lived with her husband in Boston, Massachusetts.  During her engagement, Tinu noticed how the majority of books used by churches or pastors in the context of pre-marital counseling failed to address the concerns of interracial and intercultural couples.  Tinu created
yesweretogether.com
in 2010 after years and years of talking to her then boyfriend, now husband, about creating that resource for interracial couples.  Her writing meets at the intersection of the serious, the hilarious, and the controversial.

Share and Enjoy