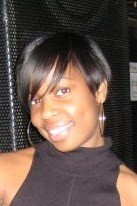 Ms. Kinsey's Words of Wisdom Blog
Site Description: Ms. Kinsey's Words of Wisdom is an inspirational blog that was created by an outspoken, self-driven, determined young woman by the name of Yaschia Kinsey. Ms. Kinsey has always been passionate about listening to other people problems and helping them derive at a solution. After being told by family, friends, and strangers that she is "wise beyond her years" she decided to create a personal blog to share her insight on various topics, including, but not limited to Love, relationships, faith, and issues that affect the black community. Ms. Kinsey would love for you to visit her blog at http://mskinseyswordsofwisdom.blogspot.com/ and share your opinion.
Bio: Ms. Kinsey is a Licensed Mental Health Counselor, a Certified Addiction Professional, and a mentor to the youth. She is passionate about giving back to her community and helping other's live up to their fullest potential. Ms. Kinsey received her Bachelors of Arts and Masters of Science degree in counseling from the University at Buffalo. She lived in Buffalo for 6 years before relocating to Miami, Florida. Currently, she works as a substance abuse counselor for a non-for profit agency in Miami, Florida. Ms. Kinsey is in the process of writing a book on relationships to encourage men and women to find themselves, discover who they are, and fall in love with themselves and God before committing to another person or getting into a relationship.

Share and Enjoy