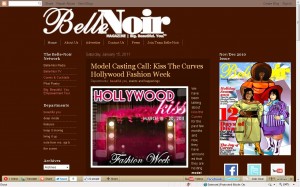 About Belle-Noir Magazine: Created with the plus size woman of Color in mind and at heart, Belle-Noir Magazine is the premiere digital lifestyle magazine that serves to help you live your best life in a big & beautiful way. Belle-Noir Magazine was originally concepted in August 2003 after a discussion in a Yahoo! Group in which several of the female members voiced their concerns over the lack of positive representation of plus size women of Color in the media. It was agreed that whether it was a magazine geared towards plus size women or a magazine for Women of Color, women size 14 and over were rarely ever featured at all. Ms. Aja B. Stubbs, seeing the past and recent demise of several magazines for both plus size women and women of color, decided to take her personal goal of starting a magazine to the 21st Century by creating an online publication that would be dedicated to women just like her and the lovely ladies in that Yahoo Group.
In September 2010, Belle-Noir Magazine re-launched as a digital bi-monthly magazine. It is supplemented by a daily blog. Visit us at
http://bellenoirmag.blogspot.com
.
About The Founder: Ms. Aja B. Stubbs is a graduate of Marymount Manhattan College, and has a B.A. in Communications. She credits an internship with Bloomberg LP during her Junior Year at MMC with giving her the original idea behind bringing the best of her two loves–writing and web design–together to create Belle-Noir.

Share and Enjoy