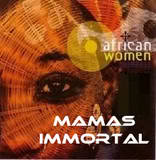 mamasimmortal.wordpress.com
by Maati Ausara-t Neferkhar
mamasImmortal intends to achieve global healing by helping to support primal feminine expression in all of its manifestations.  We believe that a woman in tuned with nature and her innate power is a woman aligned with her destiny.  mamasImmortal is committed to assisting women as they tap into their raw feminine energy, ultimately discovering their immortality by creating safe healing spaces for women to dialogue, heal and grow. mamasImmortal is a boundless space for conscious women to recharge.  A place to be heard.  A place to just listen.  A place to dream.  A place that forces you to reevaluate yourself.  A place that reaffirms who you are and/or strive to be as an Immortal Spirit.
Maati infuses a sincere love for life and purposeful living into her relationships with women.  She works to activate the raw essence and innate power of herself and others by using the time-tested rituals and practices of our divine ancient mothers.  The healing spaces she creates for women invoke the power, passion and peace needed for women to live their lives in true balance and clarity.  Maati is a firm believer in the sacred and overstands that all women sit at the very center of that space!
Blogging Tip
Making a conscious effort to authentically connect with your readership is critical.  Always be honest with yourself as a blogger as well, not getting too wrapped up in getting traffic and obsessing over daily site stats.  Being true to who you are and why you do what you do will come through in your writing.  This will undoubtedly strengthen your relationship and dialog with your readers!

Share and Enjoy