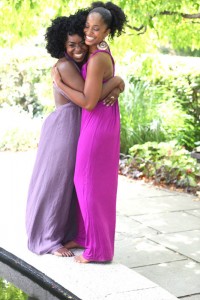 Shi**y Fabulous Lives is a personal blog written by MinDog (Amina Robinson) and Metch (Maechi Aharanwa). Their blog is written because they thrive on always having to justify their existence… THEY'RE ARTISTS DAMMIT!
Two artists. The performing kind. They act. They blog when their lives are fabulous and when they are not.
They share truthful accounts, stories and opinions about: dating, acting, feelings, marriage, motherhood, womanhood, men, family, their bodies, friendship, news, their commitment to creativity… LIFE! They are experts at nothing but passionate about almost everything. Their aim is to share so that others are inspired to do the same. MinDog & Metch believe that sharing fosters connection and nothing is more human than connecting.
Basically these two women have a lot going on and they're not afraid to let the world know… they are on a LIVING OUT FRONT JOURNEY! Join them.
About MinDog & Metch
MinDog & Metch are professional actors originally from Philadelphia and NYC. Their paths crossed at Temple University where they both majored in ways to avoid reality and embarrass themselves in any situation that was of importance or that involved the opposite sex. After giving each other a few side eye glances they joined at the hip and have been inseparable ever since. One of them is a vegetarian and one is not.
To read more about MinDog (Amina Robinson) go to www.aminarobinson.com.
To read more about Metch (Maechi Aharanwa) go to www.maechi.net.
Visit www.mindogandmetch.com to follow their blog. They love when you leave comments. Don't forget to like the new MinDog & Metch facebook page and to follow their new twitter account.

Share and Enjoy