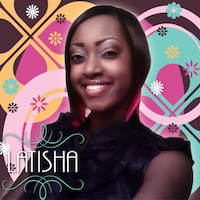 My name is Latisha Horton and I am the creative professional behind "Eccentric Designs by: Latisha Horton". Eccentric Designs is your one stop shop for delicious graphic/web designs and DIY (do-it-yourself) printable partyware and stationary designs – I am able to customize designs for any occcasion (i.e. birthdays, holidays, announcements, weddings, anniversaries, baby showers, graduation, etc.)
Eccentric Designs blog was created as a creative outlet for me to document my journey as a full-time career woman by the day and part-time creative professional by night. The main purpose (goal) of my blog is to inspire and (hopefully) encourage other individuals wanting to leap out and began their journey as business owners. Other fun (eccentric) things you will find on my blog range from: new designs in my shop, highlighting other shops/small businesses, DIY party ideas, and more.
Etsy: http://www.etsy.com/shop/EccentricDesignsbyLH
Etsy2: http://www.etsy.com/shop/LuxePaper
Blog: http://eccentricdesignstudio.blogspot.com/
Web: http://www.wix.com/EccentricDesignStudio/LH
Facebook: http://www.facebook.com/EccentricDesignStudio
Twitter: http://twitter.com/#!/latishahorton
Best Blogging Tip: Be consistent. Try and find your niche and stick to it – when you are comfortable blogging about a specific subject/topic the passion (and excitement) from your blog posts will be easily detected by your readers.

Share and Enjoy