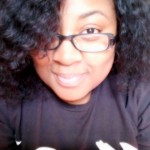 Bio: Writing has always been a passion of mine; poetry and songs mostly. I didn't let people start reading my work until about 2 years ago when I turned to writing ballads/hooks for local artists. As much as I love hip-hop and rap, R&B will forever have my heart. Shae a song writer? Who would of thought. My childhood was full of musical influences; So I've always respected the creative process of making great records. I quickly became known for my "tough love" critiques and high standards in the QUALITY of music.
Texas is where I call home even though I was born and NOW reside in Georgia. Being an army brat, I have traveled and lived in many states and countries. Those experiences helped me to appreciate different styles and genres. This respect is made apparent by the diverse music I post and review on my site.
Site Description: WhaChuShae is a site dedicated to supporting  independent artists, designers, and entrepreneurs; while simultaneously staying rooted in the Tallahassee and Atlanta communities. In honor of my mission to cut down on the repetitiveness and unoriginality of today's bloggers; My team is committed to bringing a fresh music perspective and showcasing amazing talents on the rise.

Share and Enjoy