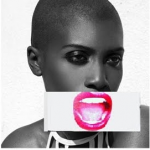 About ATQM:
All The Queen'z Men  (ATQM) is a fantastic new blog that has arrived on the fashion scene. While other sites just look at the fashion world in a simple way, All the Queen'z Men offers an ultra-cool take on style with lots of chic photos, smart copy and best of all – some beefcake! All the Queen'z Men is the reader's red carpet, whisking them away to only the most gorgeous guys on the planet. A special feature called The Candy King of the Week shows a photo of a rugged and strapping young man for viewers to rate. Better bring a fan, the hot men candy of the week are sure to get every woman's temperature rising.
Of course, that is not the only reason to tune into All the Queen'z Men. Eve Noir's blog entries will give a fashion insider's advice on the latest trends in style, dating, love and the secrets to goal digging. Every woman and man on the planet needs this information.
About Eve:
Eve Noir- also known as Sarneva Fullard- is currently a student at Full Sail University studying Digital Marketing and Mobile Development. Prior to hitting the books, Eve was the creative assistant at Cool Hunt- an editorial and photography agency based in West Hollywood. Eve has coordinated editorial productions for numerous women and fashion magazines, such as Vogue, Marie Claire, Elle, Harper's Bazaar, Cosmopolitan, MR, Seventeen, and SELF. She has a vast network of contacts across international magazines and various other media outlets.
Eve has also appeared as on numerous radio shows across the los angeles region, including Diva Hour Radio, Smiley Show, Louie LA Live and been featured in Obvious, Regia,and WWD. Eve was also featured on Janice Dickinson Agency and Tyra Banks show.
Her work experience–as a blogger, creative assistant, publicist, and fashion model– have enabled her to gain a deep and diverse understanding of the mindset and skills needed to succeed in the world of media.

Share and Enjoy