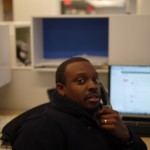 About Dueling Interests:
My site is called 'Dueling Interests', and my goal is to provoke discussion and debate about public policy and current events and in each article I try to add a little historical anecdote or comparison to give perspective. Support Shawn and visit:  duelinginterests.com
About Shawn:
Shawn Hamilton is a husband and father of two and currently resides in Jersey City, NJ. He is also a graduate of Hampton, University and a member of Kappa Alpha Psi Fraternity, Inc. He has worked in film and television in various capacities for the last several years and blogs at duelinginterests.com. He can be reached via email at shamilton1911@gmail.com and via cell phone at 917-691-1634.

Share and Enjoy